Welcome to Carson City Elementary School!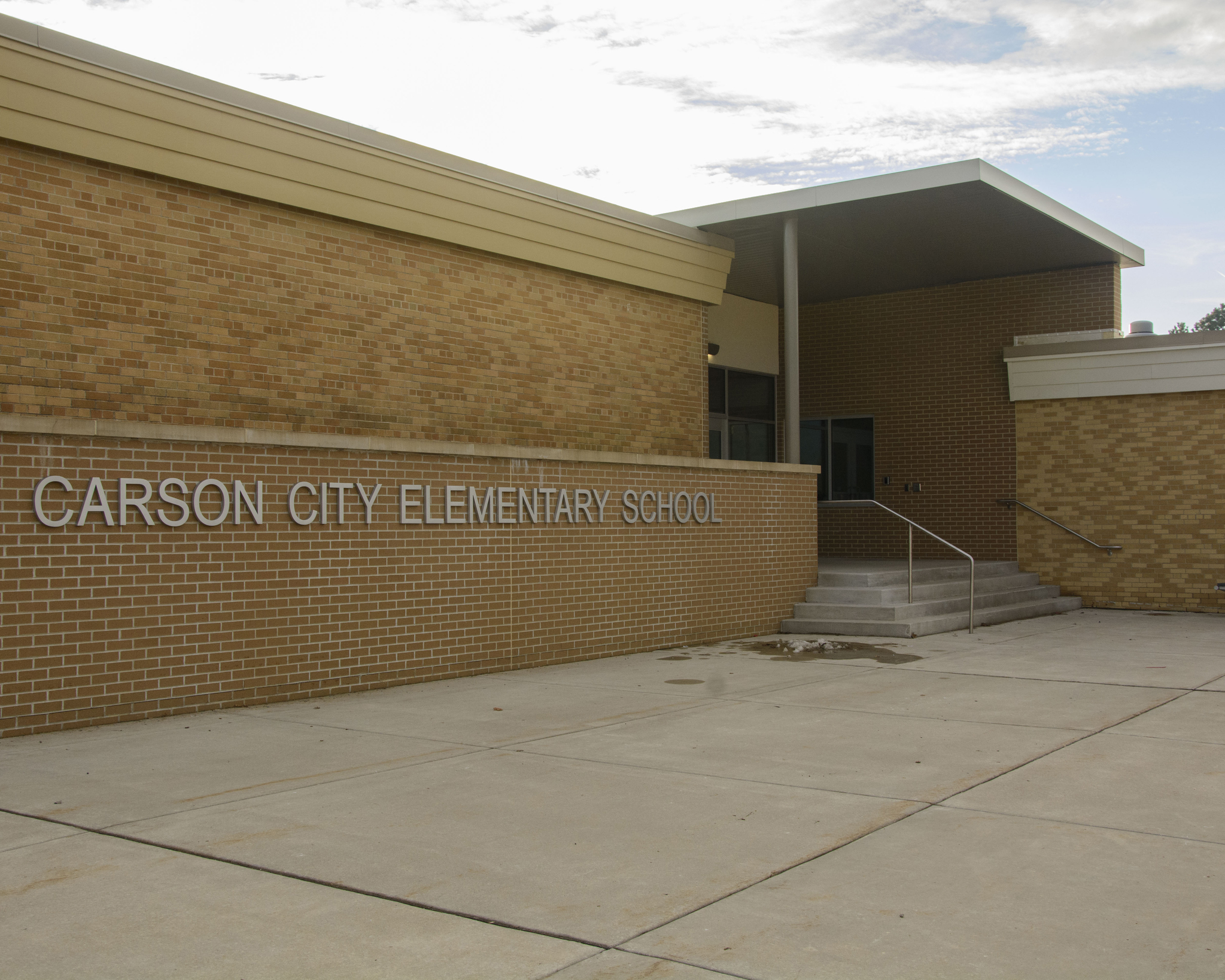 School Day

7:50 AM-3:10 PM

Lunch Time

Recess Time

Dellar

11:25 - 12:10

11:25 - 12:10

Parmenter

11:35 - 12:20

11:35 - 12:20

Baker

11:30 - 12:15

11:30 - 12:15

Postema

10:55 - 11:40

10:55 - 11:40

Vandewarker

11:10 - 11:55

11:10 - 11:55

Sharp

11:00 - 11:45

11:00 - 11:45

Nurenberg

11:05 - 11:50

11:05 - 11:50

Farlee

11:20 - 12:05

11:20 - 12:05

Jolls

11:15 - 12:00

11:15 - 12:00
Dear Parents/Guardians,
It is with great anticipation and pleasure that we welcome students and families to Carson City Elementary. Our very dedicated staff has been working diligently for the 2019-2020 school year. It is our desire that your child reach his/her highest potential academically, socially and emotionally.
In 2017, we purchased a new math program called Investigations. Investigations is a hands-on program that applies critical thinking skills while collaborating with peers. This is our 14th year using the Scott Foresman Reading Series, which has enabled our students to show much growth in their reading capabilities. We will be having at least 3 evening meetings this school year, with students and parents, to give guidance on homework, English Language Arts and Math.
You play a vital role in the education of your child. Each child has a greater chance for success when school and family are joined as partners in educating young people. Strong parent involvement comes in many forms: ensuring regular and timely attendance, monitoring homework completion, Parent Teacher Organization participation and conference attendance.
You and your child are encouraged to share your thoughts, ideas, hopes, dreams, and concerns with us openly, freely and honestly. Your child's teachers and I are a phone call or email away.
Please take some time to familiarize yourself, and your child, with the rules and policies of our school. This will assist us in maintaining a safe learning environment for everyone.
We look forward to a productive, healthy and happy year of working with you and your child.
Sincerely,
Alexis Shaver
Carson City Elementary Principal
Email Alexis Shaver or call 989-584-3130
Carson City Elementary School
338 Eagle Avenue
Carson City, MI 48811
Phone: 989-584-3138
Fax: 989-584-3259
School Day: 7:55 a.m. - 2:45 p.m.
School Office Hours: 7:30 a.m. - 3:30 p.m.